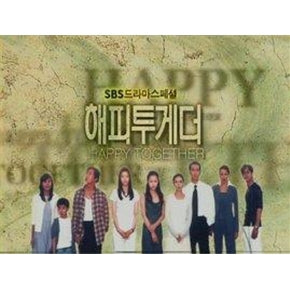 Korean drama dvd: Happy together, english subtitle
 Shipping fee is inclusive of all items

Please read terms and conditions for first time customers prior to making a purchase

complete episodes

English subtitles (may contain grammatical errors OR TYPOS)

region free dvd9 disks

NTSC format

 

Details for Happy Together

    * Title: / Hae-pi Too-ge-deo
    * Genre: Drama, Romance
    * Episodes: 16
    * Broadcast network: SBS
    * Broadcast period: 1999-06-16 to 1999-08-05
    * Audio: korean
    * Subtitle: english

SYNOPSIS:

The love, conflicts, and reunions of 5 siblings. A drama on 5 children who were separated at the death of their parents. They meet again as adults and have all gone their separate ways. Tae-poong, a minor league ball player meets his half brother Ji-suk who has become a counselor. The process of the thawing of their relationship through conflicts and twisted love leaves a deep impression.