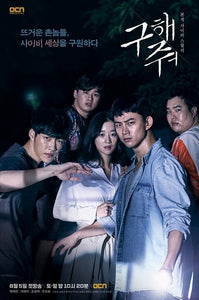 Korean drama dvd: Rescue me a.k.a. Save me, english subtitle
Shipping is inclusive of this item

Please read terms and conditions for first time customers prior to making a purchase

Complete Episodes Complete Episodes Complete Episodes Complete Episodes

English subtitle (PERFECT AND EXCELLENT)
Region Free Disk, viewable on all regions
AUDIO: KOREAN
SUBTITLE: ENGLISH
Title: 구해줘 / Save Me
Also Known as: Rescue Me
Chinese Title: 救救我
Genre: Action, Suspense, Thriller, Crime
Episodes: 16
Broadcast network:
OCN
Broadcast period: 2017-Aug-05 to 2017-Sep-24 
Synopsis
This drama is based on the Korean manhwa/webtoon
"세상 밖으로 / Out of the World"
by Jo Geum San (조금산) which was published from 2011-June-21 to 2013-Jan-16 via "
comic.daum.com
".
4 young men, who don't have jobs, face a woman in an alley. This woman says "save me" and she is involved with a cult religious group.
Cast
The Four Bumpkins