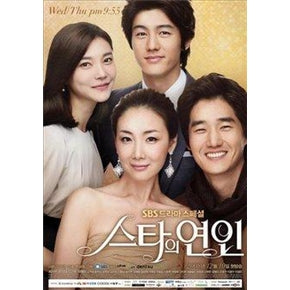 Korean drama dvd: Star's lover, english subtitles
Shipping is inclusive of all my items

Please read terms and conditions for first time customers prior to making a purchase

NTSC format

Region Free dvd9 disk

English subtitles ( may contain grammatical errors or typos)

Complete episodes

multi audio: korean / mandarin
subtitles: english / chinese
 

Details

    * Title:   Star's Lover
    * Also known as: Celebrity's Sweetheart / Celebrity Lover
    * Previously known as: Oh! My Goddess
    * Genre: Romance
    * Episodes: 20
    * Broadcast network: SBS
    * Broadcast period: 2008-Dec-10 to 2009-Feb-12
 
Synopsis

Lee Ma Ri is a famous actress that is actively pursued by four men. The four men come from different backgrounds and have different aspirations. One is a literature graduate student who dreams of becoming a writer (Yoo Ji Tae), another is a famous photographer (Choi Phillip), the third is the heir to a major chaebol family (Ki Tae Young), and the last man chasing after Ma Ri is a young executive who works at a media corporation (Lee Ki Woo).