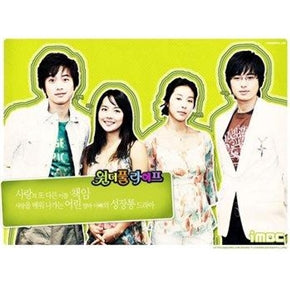 Korean drama dvd: Wonderful life, english subtitles
 Shipping is inclusive of all items
Please read terms and conditions for first time customers prior to making a purchase
Region Free dvd disk
NTSC format
Complete Episodes
English Subtitles (may contain grammatical errors or typos)
 
 






 Details

    * Title:  Wondeopool Laipeu
    * Genre: Drama, comedy, romance, family
    * Episodes: 16
    * Broadcast network: MBC
    * Broadcast period: 2005-Mar-07 to 2005-Apr-26
 
MULTI AUDIO: KOREAN / MANDARIN
SUBTITLES: ENGLISH / CHINESE

Synopsis

Han Seung Wan and Jung Se Jin bumps into each other at the airport and accidentally take each other's passports. They meet again and Seung Wan and Se Jin end up spending the day together. Both having to deal with love complications, they end up drunk and having a one night stand. Back in Korea, Se Jin discovers she is pregnant and leaves to have the baby alone. A year later, Se Jin's clueless sister ends up spilling the secret to Seung-Wan at his engagement party, showing up with his baby daughter. Seung-wan and Se Jin are then forced to marry by their respective families. Complicated love takes place between Do Hyun, Se Jin, Chae Young and Seung-Wan. The rest of the story revolves around the family's journey in learning to take responsibility, and learning to love each other.