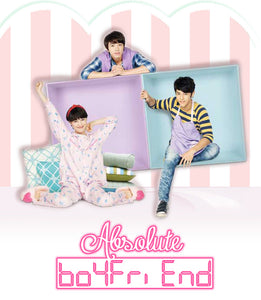 Taiwan drama dvd: Absolute boyfriend, english subtitle
Shipping is inclusive of this item


Please read terms and conditions for first time customers prior to making a purchase


English subtitles (may contain grammatical errors or typos)


Complete Episodes 


VIEWABLE ON ALL REGIONS


AUDIO: MANDARIN ONLY


SUBTITLE: ENGLISH SUBTITLE ONLY ( EXCELLENT GRAMMAR)
Title: 絕對達令 / Jue Dui Darling
English title: Absolute Boyfriend
Genre: Romance
Episodes: 13
Broadcast network: FTV/GTV
Broadcast period: 2012-Apr-08 to 2012-Jul-01
Opening theme song: Mr. Perfect by Fahrenheit
Ending theme song: Jia Zhuang We Men Mei Ai Guo (假裝我們沒愛過) Pretend We Never Loved by Jiro Wang
Related TV series: Zettai Kareshi

Manga Synopsis - Riiko is a girl unlucky in love. One day a strange-looking salesman gives her a business card for a website that sells "love figures" (androids designed for love-making). On the spur of the moment and without really understanding the implications, Riiko orders one for a 3-day free trial. She forgets to return him before the deadline, and must then work out some way to return the one million debt she now owes without anyone discovering about this embarrassing secret.